Virtual Dog Jog Event Information
Dog Jogs are a fantastic opportunity for you and your canine companion to get some fresh air and exercise.

If you and your four-legged friend are just beginning your journey to being more active and improving your fitness, and are looking for a relaxed, friendly and fun challenge to help motivate you, then Dog Jog is for you!


You might be asking, is jogging suitable for me and my dog?

Are you new to exercising with your canine companion? If so, there are lots of things to consider when exercising with your dog, and the Dog Jog is no different!

Keep hydrated! It's important that your dog drinks small amounts regularly – it's not good for your dog to gulp large volumes of water while exercising, so it's better to allow him or her to drink a small amount and then come back for some more later. Consider when you plan to eat in advance of the Dog Jog, you and your dog will feel more comfortable if you aren't exercising on a full stomach.

We anticipate that you will perhaps want to walk a bit, jog a bit and for those pooches who are demanding, maybe even carrying for a bit – this is fine, take as long as you like! However, if you plan to run with your dog, then remember to run at a pace that you and your dog are comfortable with. Also, keep in mind that running on tarmac can be quite stressful for your dog's joints and paws, so please remember that you can run on the grass rather than a path whenever you like.  

If you do plan to run, consider using an appropriate harness on your dog to ensure that their breathing is not restricted during vigorous exercise and so that they are comfortable and safe when they are running.



Entry Cost
Charity Entry: From £0
Standard Entry From

£10.00
Entry Benefits
Your entry fee includes a lot more than just your entry into the event. All finishers will receive the fantastic range of items listed below:
*Please note that the finishers items are subject to change and may differ slightly from the checklist or image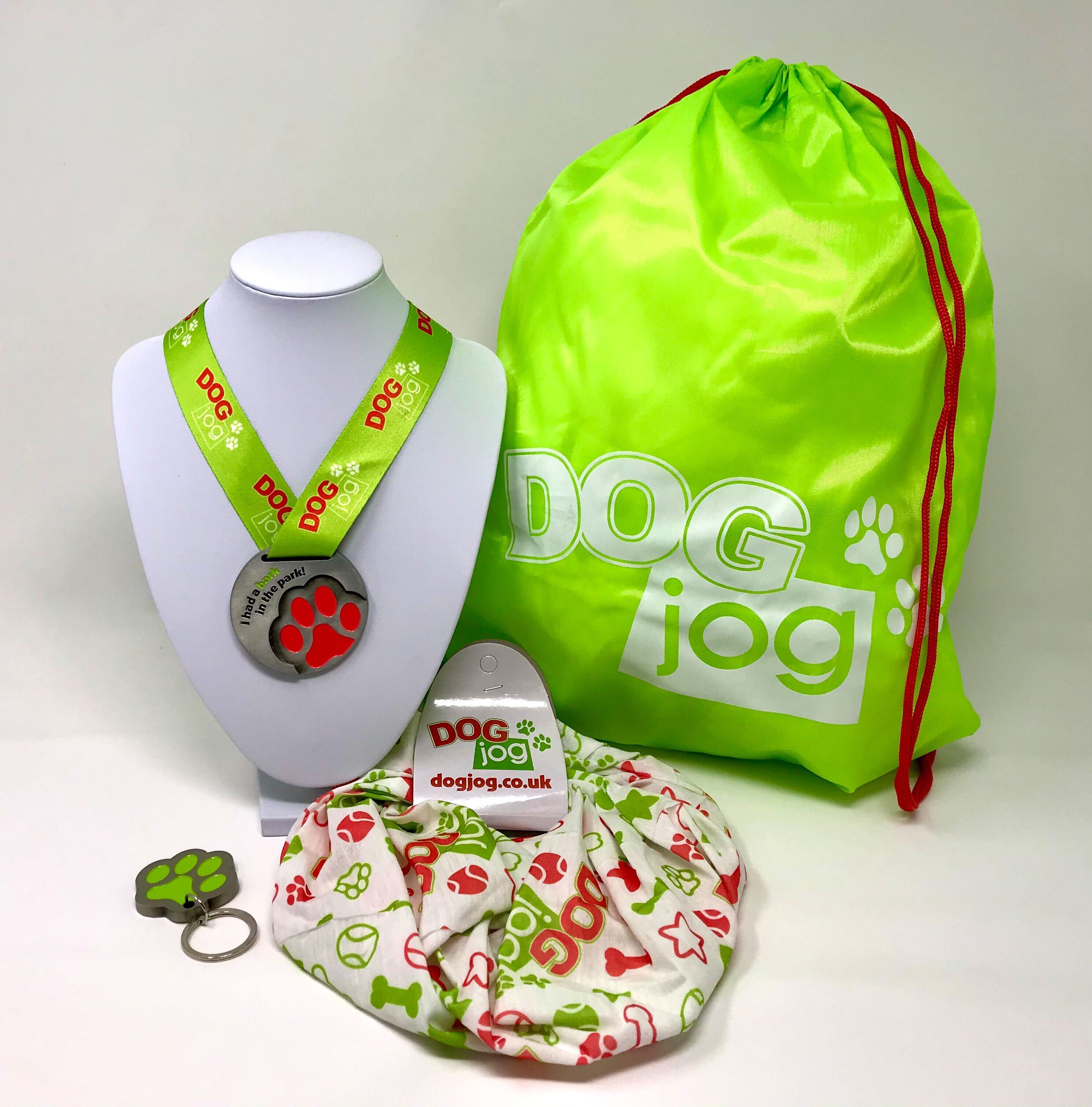 Bright, strong and practical Dog Jog drawstring bag

Dog Jog buff for keeping you warm on those colder dog walks

Medal and lanyard for 2-legged finishers

Collar medal for 4-legged finishers (also great to use as a keyring if your dog doesn't want to glam it up all the time!)

Printable participation number – a larger one for you and a smaller version for each dog involved with the challenge that can be printed and attached to their collar, harness or leash.

Personalised finisher certificate

An audio barkdown to kick off your challenge in style

Added to the Dog Jog Virtual Challenge finisher's 'pawdium'